How to Tour Australia: A Comprehensive Guide for Travelers:
Australia is one of the most popular tourist destinations in the world. With its diverse landscapes, friendly locals, and unique wildlife, it's no wonder why so many people flock to this continent. However, planning a trip to Australia can take much work for first-time visitors. In this comprehensive guide, we'll break down everything you need to know about how to tour Australia.
Getting to Australia:
The first step in planning your trip to Australia is figuring out how to get there. Australia is far from most places, so you'll likely need to take a long-haul flight. Australia has several international airports, including Sydney, Melbourne, Brisbane, Perth, and Adelaide. You can also fly into smaller regional airports, depending on where you want to go.
Choosing the Best Time to Visit:
Australia is a vast country with diverse climates, so the best time to visit depends on where you're going and what you want to do. Generally, the best time to visit is during the Australian summer, from December to February. However, if you plan to visit the tropical north, the dry season from May to October is the best time to go.
Planning Your Itinerary
Australia is a massive country, so you must plan your itinerary carefully to make the most of your time. Here are some of the must-see destinations and activities to consider:
Sydney: Visit the iconic Opera House, climb the Harbour Bridge, and relax on Bondi Beach.
Melbourne: Explore the city's laneways, visit the Queen Victoria Market, and take a day trip to the Great Ocean Road.
Uluru: Marvel at the stunning Uluru rock formation in the heart of the outback.
Great Barrier Reef: Snorkel or scuba dive to see the vibrant coral and marine life of the world's largest coral reef system.
The Whitsundays: Sail around the stunning islands of the Whitsundays and relax on the white sandy beaches.
The Great Ocean Road: Drive along one of the world's most scenic coastal routes, taking in the Twelve Apostles and other stunning natural landmarks.
The Kimberley: Explore the rugged wilderness of Western Australia's Kimberley region, including the Bungle Bungles and Horizontal Falls.
Tasmania: Visit Australia's island state, known for its stunning natural beauty, fresh seafood, and historic towns.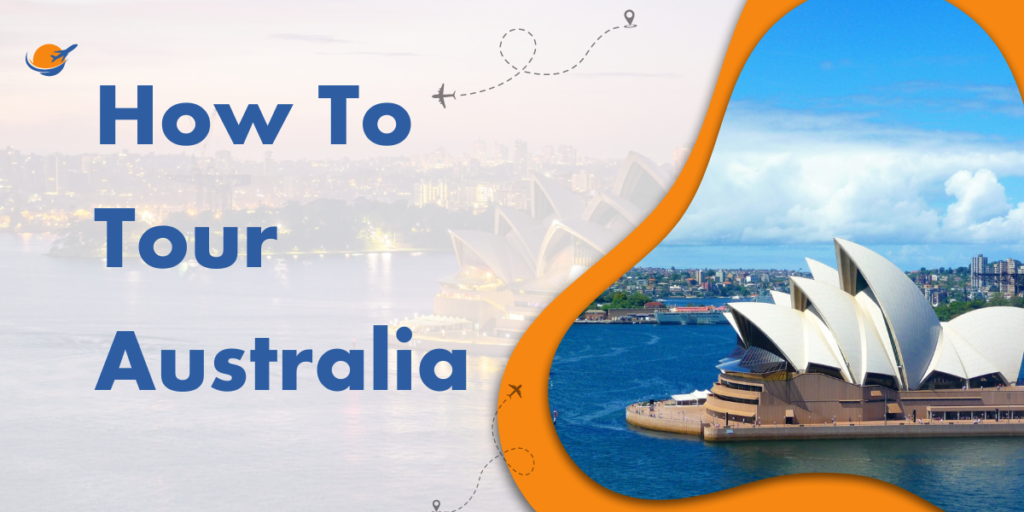 Australia has many accommodation options, from budget-friendly hostels to luxurious resorts. Here are some of the most popular options:
Hostels: Ideal for budget-conscious travelers, hostels offer dormitory-style accommodation with shared facilities.
Hotels: There are many hotels in Australia, ranging from budget to luxury options.
Airbnb: You can also rent apartments or houses through Airbnb, a more affordable option for families or groups.
Caravan parks: If you're traveling in a campervan or caravan, many caravan parks exist throughout Australia.
Camping: If you're an outdoor enthusiast, camping is a great way to explore Australia's natural beauty.
Australia is a large country, and getting around can be challenging. Here are some of the most popular transportation options:
Car: Renting a car is a popular way to explore Australia, but be prepared to drive long distances.
Campervan or caravan: Many travelers rent a campervan or caravan to explore Australia, giving them the flexibility to travel at their own pace.
Public transportation: Australia has an extensive public transportation system, including buses, trains, and ferries.
Domestic flights: If you're short on time, flying is the quickest way to get around Australia.
Activities and Experiences
Australia has incredible activities and experiences you will want to experience. Here are some of the most popular:
Wildlife encounters: Australia is famous for its unique wildlife, including kangaroos, koalas, and wallabies. You can see these animals in the wild or at wildlife parks and sanctuaries.
Surfing: Australia is a surfer's paradise, with some of the world's best waves. Take a surf lesson or rent a board and hit the waves.
Wine tasting: Australia has several world-renowned wine regions, including the Barossa Valley, Margaret River, and Hunter Valley. Take a wine tour and sample some of Australia's best wines.
Hiking: Australia has some of the world's most beautiful hiking trails, including the Overland Track in Tasmania, the Larapinta Trail in the Northern Territory, and the Great Ocean Walk in Victoria.
Cultural experiences: Learn about Australia's rich Indigenous culture and history by visiting museums and cultural centers, taking guided tours, and attending festivals and events.
Foodie experiences: Australia has a thriving food scene, with fresh seafood, delicious coffee, and a range of international cuisines to try.
Australia is generally a safe country to travel in, but taking precautions is always important. Here are some travel tips to keep in mind:
Stay hydrated: Australia can be hot and dry, so drink plenty of water.
Protect yourself from the sun: The Australian sun can be harsh, so wear sunscreen, a hat, and sunglasses to protect yourself from sunburn and heatstroke.
Watch out for wildlife: Australia is home to dangerous animals, such as snakes and spiders. Always be aware of your surroundings and follow any warning signs.
Respect the environment: Australia has many fragile ecosystems, so follow Leave No Trace principles and respect the natural environment.
Be mindful of cultural differences: Australia is a multicultural country, so respect cultural differences and traditions.
In conclusion, touring Australia can be an incredible experience but requires careful planning and preparation. You can make the most of your trip to this stunning country by following these tips and suggestions.