When it comes to the smooth operation of your business, having a functional and efficient commercial refrigerator is crucial. These refrigeration units are designed to handle the demands of a busy commercial kitchen or food service establishment. However, like any other appliance, commercial refrigerators can experience problems and require repair. That's where Fast Repair Care comes in.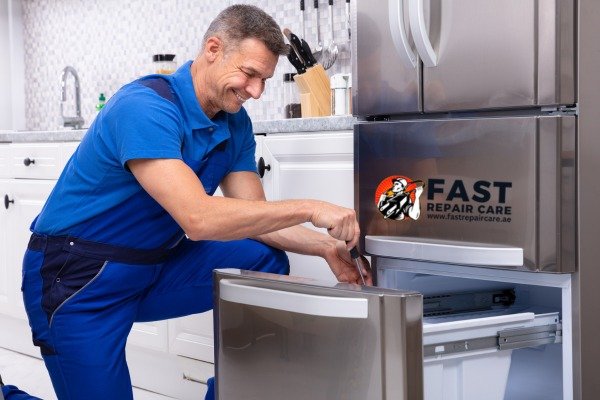 Why Choose Fast Repair Care?
Fast Repair Care is a leading provider of commercial Refrigerator repair Dubai. Our team of skilled technicians has years of experience in repairing and maintaining commercial refrigeration units. We understand the importance of having a properly functioning refrigerator for your business, and we are committed to delivering reliable and efficient repair services.
Expert Technicians
At Fast Repair Care, we have a team of expert technicians who specialize in commercial refrigerator repair. They are highly trained and experienced in diagnosing and fixing a wide range of issues that can affect the performance of your commercial fridge. Whether it's a problem with the compressor, thermostat, condenser, or any other component, our technicians have the knowledge and expertise to get it back up and running in no time.
Quick Response Time
We understand that a malfunctioning commercial refrigerator can disrupt your business operations and result in spoilage of perishable goods. That's why we offer a fast response time to ensure that your refrigerator is repaired promptly. Our technicians will arrive at your location equipped with the necessary tools and parts to handle most repairs on the spot, minimizing downtime and getting your business back on track.
Quality Parts and Service
At Fast Repair Care, we believe in using only high-quality parts for all our repairs. We have established partnerships with reputable suppliers to ensure that we have access to genuine parts for various commercial refrigerator brands and models. When you choose us for your commercial Refrigerator repair Dubai needs, you can rest assured that you are getting top-notch service and reliable parts that will prolong the lifespan of your refrigerator.
Common Commercial Refrigerator Problems
Commercial refrigerators are subject to a variety of issues that can affect their performance. Some of the most common problems include:
Inadequate Cooling
Your commercial refrigerator is not cooling properly, it can lead to food spoilage and potential health risks. This issue can be caused by a faulty compressor, condenser coils that need cleaning, or a malfunctioning thermostat. Our technicians will diagnose the problem and recommend the necessary repairs to restore optimal cooling.
Excessive Frost Build-up
Frost build-up inside the refrigerator can obstruct airflow and compromise its efficiency. This problem is often caused by a faulty defrost system or door seal. Our technicians will identify the source of the frost build-up and perform the necessary repairs to prevent it from recurring.
Unusual Noises
Your commercial refrigerator is making unusual noises such as buzzing, rattling, or grinding sounds, it could indicate a problem with the fan motor, condenser, or evaporator fan. Our technicians will inspect the unit, locate the source of the noise, and carry out the appropriate repairs to restore quiet operation.
When your commercial refrigerator is in need of repair, trust the experts at Fast Repair Care. With our experienced technicians, quick response time, and commitment to quality service, we are the preferred choice for commercial refrigerator repair in Dubai. Don't let a malfunctioning refrigerator disrupt your business operations—contact Fast Repair Care today for reliable and efficient fridge repair near me.